The case for council support for commercial composters featuring Greenwaste to Zero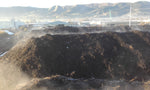 Waste is piling up in our landfills, contributing to climate change, and organic matter represents approximately 15 per cent of Class 1 landfills. Composting poses one of our greatest opportunities for unlocking the potential of resource recovery, returning carbon to the soil and building more resilient cities while reducing environmental impact. We profile Greenwaste to Zero, who last year transformed over 6,600 tonnes of organic matter - green waste, food scraps and compostable packaging, a scalable solution with the capacity to recover, transform and produce new materials as part of a circular economy.
Waste is a resource
Established in 2002 to manage the disposal and effective recycling of the green waste in the Nelson and Tasman district, Colleen and Jason Wastney purchased Greenwaste to Zero in 2019, and it remains a family-run business. At that time, the site was consented to accept green waste, but with council support, resource consent was extended to compostable service ware in July of that year. Greenwaste to Zero remains the only commercial composting facility in the top of the South Island. 
"We take all compostable packaging from major events, like Bay Dreams, the Buller Gorge Marathon and fairs." Colleen Wastney tells me. "We have more and more businesses joining, especially since the local councils have introduced a 'no waste' policy, so all events now have to have compostable or reusable packaging. This means a wash station to clean and reuse serve ware. All the compostable packaging comes to us."
Recall 2019 was the year of the plastic bag ban. There was a growing interest in compostables and the new possibilities for these materials as a substitute for plastic. Schools and various organisations in the area using compostable packaging were looking to reduce waste on-site, and there was a lot of interest. Initially, collections were mostly coffee cups; Sublime Coffee Roasters was the first compostable cup client at the time, sending approximately 3,200 EcoCups and lids for composting each month, encouraging people to bring their compostables back for collection. 
Today approximately 500-700 customers are on the site per week, and one-third are commercial customers, landscapers, et cetera, either dropping off green waste or collecting compost, topsoil and mulch. Since taking ownership in 2019, Colleen says they've already improved the site's operations, despite challenges such as increased diesel costs and annual lease increases. "Larger systems certainly don't have the control that we do, contamination, quality of compost, et cetera)," Colleen explains. 
Transforming compostable packaging into soil food
Only certified compostable products are accepted, made from plants, not fossil fuels, and collections are facilitated by Waste Management. Packaging is mulched and this confetti-like substance is added to windrows - the large compost piles and completely buried within the green waste. Every other month the windrows are rolled forward, which controls moisture and temperature levels. 
After 12 to 18 months, the process is complete - the last windrow is screened, and compost is stored in a shed to keep it dry and stops birds - or the wind from spreading seeds. Any 'tailings' (the larger pieces that pass through the screening plant as they are still too big) are reincorporated into the first windrow and will begin the process again. Nothing is wasted, and the entire process takes about two years. To ensure consistent quality, nutrient and toxin analysis is regularly undertaken by R. J. Hill Laboratories.
How councils and communities can support localised composting operations and help them grow
The government passed its Zero Carbon amendment to the Climate Change Response Act in 2019, which sets a target for all greenhouse gases except biogenic methane to reach net zero by 2050. Methane from agriculture and waste has a separate target - a reduction of 10 per cent by 2030, yet to be covered by significant policies. At a time when cities are slowly beginning to take responsibility for their waste (the July single-use plastic bans signal promising change), it's crucial that we support composters and councils financially fund existing infrastructure if we are to divert organic matter from landfill - 9 per cent of Aotearoa, New Zealand's biogenic methane emissions are from food and organic waste. 
Composters like Greenwaste to Zero remind us to consider the potential for the circular economy, which is vital to achieving the government vision for 2050 as a low-emissions, low-waste society built upon a circular economy. "We receive huge support from the council waste minimisation departments," explains Colleen. Ultimately, support for composters is logical, as composting reduces waste to landfill, methane emissions and waste management costs, including levies. 
Designing systems for the future
Last year, Greenwaste to Zero processed over 6,600 tonnes of organic matter - green waste, food scraps and compostable packaging with three full-time staff and a very hands-on approach to the day-to-day. This compost is used by locals to build healthy soils. It's also a wonderful example where existing local infrastructure is utilised to deliver council waste reduction strategies. "I feel composting is now considered a vital part of our community. A circular economy is important, and composting is the perfect example of this," Colleen explains. 
Organic matter in the soil, produced from composting, sequesters carbon from the atmosphere and mitigates climate warming. "We have a leachate pond that fills up in a weather event, which seems to be more and more regular, and this cannot discharge into the stormwater, so we have to monitor this constantly," says Colleen. One in one-hundred-year weather events have occurred in repetition this year - the January floods and then Cyclone Gabrielle in February. As governments globally face various human, environmental and economic costs of climate change, investing in our soils is a solution. We need to replace topsoil at the rate of which fertile soil is being eroded, which has implications for local food production.
"I had a school group come through yesterday who had just visited the landfill. They loved the fact that nothing leaves our site except a high-quality product. They commented it was a happy ending and positive story, especially seeing how dismal it was at the landfill," Colleen tells me. Not only will it become important to embrace and find opportunities in the current and future overload of waste, but, more importantly, it is crucial to begin supporting existing systems in which there is no waste at all. 
"It's [composting] the future, so we need to start preparing for more compostable products. I am sure there will be a point where no more packaging will be allowed unless it is certified compostable. We are already seeing some events only being permitted with zero landfill waste, and this will no doubt extend to all events in the not-to-distant future, Colleen states. "We have to protect our planet, and we are proud to be able to support this."  
If you're in the Nelson and Tasman district, looking for somewhere to send food scraps and compostable packaging, email info@greenwastezero.co.nz. To organise your collection, get in touch with Waste Management.