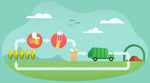 Chasing our dream of a waste-free world.
We are more than just a packaging company, we're innovators leaving a legacy of zero waste in our country.
Zero waste in 3 easy steps.
No longer an intimidating concept, zero waste environments are becoming a fundamental part of everyday life. By embracing simple solutions, Ecoware can help your business divert organic waste from landfill in 3 easy steps.
1
Identify your packaging needs
Consult with Ecoware about your specific packaging needs and goals to reduce your footprint. We'll help you choose the best Ecoware packaging to suit.
2
Implement bin systems and waste management plan
Based on your site, systems and processes, implement organic waste bins and a plan to ensure food and compostable packaging waste is collected separately.
3
Collection partners will collect organic waste
We will connect you to industry partners to help remove your food waste and compostable packaging and ensure it is commercially composted.
Our Collection Partners
We have partnered with waste collection companies to create a closed-loop environment. If Ecoware products and food scraps are disposed of in separate bins, our partners can collect them for composting - winning!
Time to make your customers proud.
Join thousands of businesses across the globe currently
using Ecoware compostable packaging.