The original innovators
We have devoted the last 10 years to developing world-leading sustainable
food packaging, so you can serve your customers the best.
Why ecoware?
It's simple, we work with nature, not against it.
Made from plants, not oil
The majority of Ecoware products are made entirely from plant material.
Paper from managed plantations
We prefer to use paper from responsibly managed plantations.
Non-toxic inks
Our inks are either soy or water-based and are non-toxic.
Made from renewable resources
Most of our raw materials are produced by nature - we prioritise renewable resources.
Commercially compostable
Ecoware products have been certified or trialled for commercial and/or home composting.
Sustainable
Our products provide a sustainable alternative to traditional plastic food packaging.
Toitū Climate Positive certified
We don't just measure and offset, we've set science-based targets to reduce emissions across our value chain and make a broader societal impact.
Delivery without delay
We provide overnight delivery nationwide, enabled by three warehouses across NZ.
Packaging with principles
Put simply, we're passionate about a circular economy. To do our part to help achieve this, we design our range of plant-based food packaging to use resources sustainably and responsibly, giving environmental, social and economic concerns equal consideration.
PLA Bioplastic
Polylactide (PLA) is a natural polyester derived from renewable plant material. We prefer to use the world's most reputable brand, Ingeo™. During production, Ingeo™ emits up to 80% less CO2 than the comparable manufacture of traditional plastic like PS and PET*. It looks, feels and performs like traditional plastic, but is low-emission and plant-based to make for a more sustainable product.
PLA is routinely composted around the world in commercial facilities and holds multiple international composting certificates.
*Life Cycle Inventory and Impact Assessment data for 2014 Ingeo™ Polylactide Production. Industrial Biotechnology, June 2015
Paper
Trustworthy and most importantly renewable, paper is an important raw material that replaces many everyday plastic products. Where possible, we use paper sourced from responsibly managed plantations. Paper packaging makes for naturally elegant and durable food packaging.
Birchwood
Our birchwood is sourced from responsibly managed forests. It is known for its durability, and our advanced manufacturing process reinforces the strength of the original piece of wood. It has a smooth finish and is not known to splinter or crack.
Our range of Birchwood EcoCutlery has a rich sheen giving the product an elegant finish.
Bamboo
One of the world's fastest growing plants, bamboo fibre is an ideal raw material for packaging. The strength in the molecular structure provides a heavy duty and robust product, which makes our bamboo food packaging suitable for both hot and cold foods, and is oven and freezer friendly.
Our bamboo fibre is a by-product sourced from existing agriculture. The waste material is a pulp substance that we mould into food packaging using advanced production equipment.
Sugarcane
Our sugarcane range is certified for home and commercial composting. This means that consumers can play an active role in the diversion of organic waste from landfill, and it will break down with food waste into non-toxic biomass.
Sugarcane packaging is made from the byproduct after the sugarcane stalk has been processed. Its fibres are moulded to make our packaging.
PBAT
A raw material we use that is not made from renewable plant material is PBAT (Polybutylene Adipate Terephthalate). This is a polymer used in our compostable bin liners and checkout bags only. While our ethos is to provide food packaging made from plants, a small amount of PBAT is required to strengthen these products. This is because PLA bioplastic is a young innovation still in development stages, and not yet suitable as a solo component for compostable bags. We are positive that one day the innovation will develop and we can eliminate PBAT.
We have ensured the PBAT we use is certified to international commercial and home composting standards.
Sustainability is not the work of one, but the work of many
Industry Partners
To ensure we remain at the forefront of our industry, we partner with national and international leaders in sustainable business practice.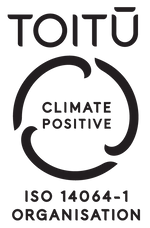 Toitū climate positive certified
The Toitū climate positive certification is the most robust of its kind and recognised internationally in 60 countries. Ecoware are the very first company to be awarded with it and take pride in the strides we've made toward our goal of zero waste. Becoming climate positive means we don't just measure and offset our emissions, we are also aligning with science based targets, influencing supply chain networks and educating stakeholders about emissions reductions too.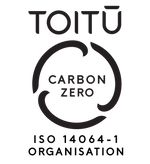 Toitū carbonzero certified
We have been a Toitū carbonzero certified company for 8 years running and the first company to achieve this in the packaging industry. The certificate requires us to measure and monitor our annual emissions and subsequently offset that footprint via carbon credits. We establish reduction plans to target any remaining emissions. This certification is in compliance with ISO 14064-1 standard and the most robust of it's kind.
Forest Stewardship Council® (FSC®)
We are committed to environmental responsibility, which is why we are FSC certified. FSC is a globally recognised mark of credibility and trust, dedicated to promoting responsible forestry management around the world. You can be assured that your FSC certified EcoCups, EcoBowls and paper straws are made from responsibly sourced paper.
Ingeo™
Naturally advanced low-carbon footprint Ingeo™ resins (Polylactide or PLA) are manufactured by US company, NatureWorks LLC: a world leading biopolymers supplier and innovator. They supply resin made from renewable plant resources, which we manufacture and manipulate into Ecoware food packaging. The production of Ingeo™ emits fewer greenhouse gasses than the comparable manufacture of common petrochemical-based plastic 1. In short, this technology allows us to turn plants into plastic.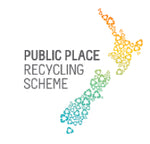 Public Place Recycling Scheme
The Public Place Recycling Scheme is an industry funded program that helps New Zealanders recycle when they are away from home by providing more opportunities to recycle, reduce litter and increase awareness about "doing the right thing". We are founding members.
WasteMINZ
WasteMINZ is the authoritative voice on waste and resource recovery in New Zealand seeking to achieve ongoing and positive development of the industry through strengthening relationships, facilitating collaboration, knowledge sharing and championing best practice standards. We are a proud WasteMINZ member.
NZ Specialty Coffee Association
The NZ Specialty Coffee Association is the national representative body for specialty coffee stakeholders in NZ. The purpose of the Association is to represent all stakeholders in NZ specialty coffee, provide a forum for industry participants to advance the NZ specialty coffee industry, provide professional development through training & education, and promote public interest and customer awareness of specialty coffee in NZ.
Time to make your customers proud.
Join thousands of businesses across the globe currently
using Ecoware compostable packaging.