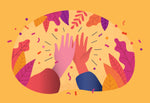 Waste is just a resource in the wrong place
Certified compostable packaging is designed to decompose together with food waste, removing mechanical requirements of separation. The end result of composting is carbon dioxide, water and humus, a soil nutrient that can be used to build healthy soils.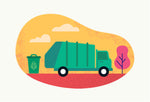 Collection Partners
Composting provides significant climate benefits, with soils serving as a critical carbon sink, but certified compostable packaging needs composting if we are to realise the potential for a low-waste circular economy in Aotearoa, New Zealand. For more information on compost collections, get in touch with your local service provider.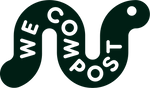 We Compost (Green Gorilla) — Auckland
Collecting over 50,000kg of organic waste each week, We Compost operates within Tāmaki Makaurau, Auckland, alongside food service businesses committed to accelerating a circular economy. An intentionally designed large-scale compost facility in Tuakau transforms compostables and green waste in approximately 9 weeks into nutrient-rich compost, used in regenerating soils for food production in farms across Pukekohe and Bombay. From weddings to school galas and large-scale events, fees include bin delivery, rental and collection.
EnviroEarth — Auckland
An on demand green-waste service, EnviroEarth offers click and collect options and you pay for what you use, starting at $13.95 per bin, per collection. Compostables and green waste are transformed at their Hampton Downs compost facility creating high quality, locally available and affordable compost that nourishes commercial and residential gardens. Vist their website to view service zones and to download the app.

EnviroWaste — Auckland, Nelson & Christchurch
Operating across Tāmaki Makaurau, Auckland, EnviroWaste provide a food rescue service in addition to organics collections, working towards improving access to food while reducing waste to landfill. In partnership with the New Zealand Food Network, rescued food is distributed throughout Aotearoa, and food scraps and inedible food items are sent to the Gore Cover facility for stock-feed or composting. Investments in equipment, infrastructure, and industry relationships are maximising their environmental and soical impact.
Reclaim — Auckland
Each month, Reclaim are collecting in excess of 130 tonnes of food scraps and non food organic materials, accelerating our shift to a circular economy where waste is an asset and not a liability. Committed to 0% landfill, Reclaim views recovering and recycling as both an environmental and economic development. Send them an email to request a free quote.
Awapuni Resource Recovery Park Collection Service — Palmerston North
Palmerston North City Council is tackling the waste crisis through investing in local solutions. Palmy compost consists of green waste and organics collections from local businesses — and after 9 months of turning is available to purchase in 30-litre bags for $5 at the Ferguson Street Recycling Centre and Awapuni Resource Recovery Centre. Palmy compost illustrates how councils play a role in nourishing our communities and building climate resilience. Palmerston North City Council (PNCC) accepts approved compostable packaging via EnviroWaste from events only.
Total Waste Solutions — Christchurch
Family-owned and operated for over 15 years, Total Waste Solutions is a sustainability-focused waste minimisation consultancy engaging with businesses to amplify the triple bottom line (people, planet, prosperity), shifting business conscious to circular economy thinking. Collecting organic materials in addition to other waste streams, Total Waste Solutions offers a tailored approach to landfill diversion for restaurants, bars and other hospitality businesses via Sustainably, delivering waste cost savings of at least 10% while supporting environmental and social goals.
Waste Management — Christchurch
Aotearoa, New Zealand's leading materials recovery, recycling and waste management provider, Waste Management offers various solutions that help hospitality business owners and event organisers to reduce waste to landfill. Recent investments in infrastructure with new facilities in Hamilton and West Auckland, a partially electric fleet and the establishment of new programs are working towards delivering on national waste reduction strategies. Visit their website to view service zones and pricing.
Waste Co - South Island
Diverting hundreds of tonnes of waste from landfill each year, Waste Co partners with businesses who recognise food scrap recovery as key to reaching high waste diversion levels, protecting the climate, and feeding the soil. Operating two sites — 421 Blenheim Rd and a purpose-built facility on 15 Kilronan Place, information on services and fees can be found on their website. Waste Co. is Aotearoa New Zealand's only Diamond-Certified Toitū Envirocare waste company.
Time to make your customers proud.
Join thousands of businesses across the globe currently
using Ecoware compostable packaging.