Sustainable plastic is going mainstream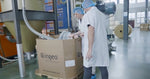 NatureWorks is pioneering an eco-friendly alternative to plastic
American-based company, NatureWorks, has been the driving force of plant-based plastic in the world in a bid to support the circular economy and replace fossil fuel-based plastics. Known for producing the world's best PLA bioplastic (branded as IngeoTM), their PLA is made from plants such as corn, beet and cassava, and is certified commercially compostable.
NatureWorks has been a partner of Ecoware's for 10 years since our inception. We use IngeoTM PLA to produce some of our innovative plant-based food and beverage packaging. With a shared mission to reduce fossil fuel-based plastic, together we have been on the journey towards a circular way of life by promoting PLA to the world.
For 15 years, NatureWorks has been the sole commercial manufacturer of PLA, and in the early years, their capacity was enough to serve the industry consisting of early adopters and pioneers. However, over the past few years, sustainability has become mainstream, frequenting dinner table conversation. PLA can be found in 10 countries, and many other industries are now discovering the benefits of PLA including medicine, construction, and 3D printing. As a result, demand for PLA has sky-rocketed, and demand outweighs supply.
Additional suppliers of PLA have entered the market, however at half the size of the NatureWorks facility, and supply is still not being met. Rising to the challenge, NatureWorks is undergoing an expansion of their production facility in Blair, USA to increase the availability of IngeoTM.
It's been a bumpy ride with supply and demand issues globally, but we stand by NatureWorks and their trailblazing innovations and business plans. We are proud of our long-standing partnership and will continue leading the charge with them towards a more sustainable future.