SKYCITY – Aiming high with sustainability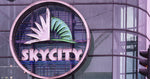 Auckland's iconic Sky Tower pins the location of SKYCITY, a premier entertainment destination of award-winning restaurants, bars, world-class casino, two hotels and a convention centre.
But the sparkle and lights dance further than the well-known Auckland flagship site, as SKYCITY holds a significant portfolio of related businesses across five locations in New Zealand and Australia. In FY2017, they saw 6.2 million restaurant and bar covers, 243,000 occupied hotel rooms, and 9.5 million visits to their casino main gaming floors. This is an extraordinary number of people enjoying all that SKYCITY has to offer.
But there can be no show without the crew, and behind the scenes in SKYCITY's head office is a passionate and dedicated team seizing a very significant opportunity.
For SKYCITY, millions of visitors require vast amounts of food and beverage among other resources, which leads to inevitable waste and an increased carbon footprint. It is easy to imagine the potential impact operations and activity a company of this size can have on the surrounding natural environment.
But in December 2016, SKYCITY confirmed their first set of corporate social responsibility goals, priority actions and targets. This included an ambitious and highly commendable goal of achieving zero waste by the end of June 2030. More recently, SKYCITY was one of more than 60 businesses across New Zealand to sign the Climate Leaders Statement, committing to action that will keep global warming within two degrees.
"SKYCITY is dedicated to growing in a sustainable manner with a commitment to environmental sustainability as a foundation for successful economic, social and cultural development." SKYCITY Entertainment Group, CSR Report 2017
In May 2017, SKYCITY's Auckland site overhauled its waste management system, enabling the business to divert more waste from landfill.
One aspect of their waste strategy is a partnership with Ecoware to supply their Auckland portfolio with premium quality, commercially compostable food and beverage packaging solutions. With Ecoware's plant-based packaging, we have helped them divert a significant and increasing amount of packaging waste from landfill.
During FY2018, SKYCITY was able to divert 496 tonnes of food waste (including compostable packaging) from landfill to instead be commercially composted by their waste supplier. This compost is subsequently used as a fertiliser product for horticultural purposes.
Naturally advanced Ecoware packaging is able to be returned to the soils along with the food waste, so its value of reuse is not lost among landfill. Due to the success and effectiveness of this partnership, there are plans to expand to other sites in their group where composting options exist.
With Ecoware, not only are they able to achieve waste diversion, but our packaging provides other significant environmental benefits. For example, transitioning away from traditional oil-based coffee cups alone to plant-based EcoCups has provided SKYCITY with the following environmental savings within the last year (FYE2018):
Fossil fuels savings equivalent to approximately 224 litres of gasoline
Sparing greenhouse gas emissions equivalent to driving a new car approximately 2,008 km
Ecoware couldn't be more proud to support SKYCITY's team with their sustainability efforts and applaud the efforts made to reach their zero-waste goal.
So what can we learn from SKYCITY? Aim for the sky. Regardless of whether you are a small café or food truck, a commuter on your way to work, or an iconic entertainment conglomerate, everyone can work to mitigate their impact on the natural environment. And aim high. We are a small country with the potential to make a big impact. Ecoware has the solutions and is ready and waiting for others to join the journey. Everyone can make changes, and change is made faster with collective effort. Let's improve and maintain our pristine natural environment so that New Zealand's clean, green image continues to shine on the world stage.