Q&A with our new general manager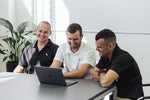 We're proud to announce that we have a new general manager at Ecoware. Meet Grant Robinson. He's an awesome addition to the team with his friendly and calm manner and his savvy business brain. Grant came to us after a successful banking career with Westpac, where - among other things - he was at the helm of the Growth Grant Awards, which celebrated and built up successful Kiwi SMEs. Fun fact: Grant is a former professional cricketer. We asked him a few quick Q&As so you can get to know him better: 
Q. What is your background and what job have you come from?
I grew up in Gisborne on the east coast, which was full of long hot summers, sport and obviously great waves. Having local heroes like surfer Maz Quinn perform on the International stage meant to me that life was anything you could make of it. You didn't have to look far to see difficulty or struggle in what was isolated forestry and farming-dependent community of 30,000. I decided that having a go, if not all that certain of where I'd end up, was a better shot than nothing. That lead me to study Law & Commerce at Waikato University, then following a stint of 10 years in professional cricket, I entered a 10-year corporate banking career with a major trading bank at 29.
Q. Why have you chosen Ecoware and how did it come about?
Ecoware is an ambitious company that puts its people, communities and the environment first. I liked that. I first heard about Ecoware through a small business competition I was running at Westpac, which they came through as winners in 2017 because they shone as a company which prided itself on high levels of service, customisation and brought the best of global packaging down to little ole' New Zealand. I stayed in touch with them since, and well here we are today.
Q. What do you have envisioned for the company? How do you see us growing in the next 2-5 years?
We are a kiwi business for kiwis, and that's at the heart of our DNA. I don't see that changing and although we get a lot of international enquiry and export markets will develop, our base will always be in New Zealand, with products having a typically Aotearoa feel. We have a big role to play in developing a sustainable approach to waste, and although we are a small team, we believe we can have a huge impact on the planet starting right here. In 5 years, I hope to see Ecoware as a leading voice on environmental issues and providing our customers with the very best in sustainable packaging technology that meets all of their needs, so that together we are improving the environment, not harming it.
Q: If you could invite 3 people to a dinner party, who would it be? 
Ellen Degeneres, Robbie Williams and Barrack Obama
Q. If you could describe yourself in one word, what would it be?
Supportive. The biggest kick I get out of my job is seeing people personally and professionally flourish through enjoying their work.
Q. What event would you go back in time for? 
Live Aid, Woodstock or the 1981 underarm delivery.
Q. What do you enjoy doing in your spare time?
My kids, my wife Anna and I spend the weekends traipsing DIY stores as I love to renovate and build stuff. Be it a slightly wonky tree house, a kennel for our dog or give the house a makeover, I'm up for anything physical outside of work. I also love to play sport or help the kids learn about sport, as I believe its helped me understand others, learn about teamwork, the discipline of good work ethic and making small but important improvements each day.
Q. What would you like to say to our amazing customers?
You're awesome. You've made a choice that many others refuse to. We know that compostable packaging isn't the answer to everything but its a bloody great start. For someone that can see from afar the benefits of getting environmental concerns as part of the business agenda, it's as important as any other decision you will make for your business. The other message is that I can't wait to meet you, so drop me a note Id love to chat over coffee and hear how we can be a better business for you and together we can make NZ epic!