Meadowbank Primary kids get rid of plastic sushi containers!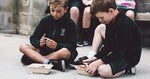 The kids at Meadowbank Primary looked forward to their school-wide sushi lunch order each term - but there was one thing that spoiled the experience... the plastic containers that came with it.
Auckland's Meadowbank Primary is proudly environmentally conscious. Their school boasts a Gold EnviroSchool certificate, on-site composting, worm farms, heaps of veggie gardens for their garden-to-table programme, packaging-free lunchboxes, and a Sustainability Committee. So it didn't sit right with them that their school sushi order brought with it massive plastic waste; 400-500 plastic sushi containers - you know the ones!
Sushi packaging without plastic

The school approached the sushi chain to ask for a better option - they said they didn't have a solution to their plastic containers yet, but they agreed to work with them to try any options the school could come up with. The sushi chain suggested they supply their own containers, but it was logistically near-impossible to turn up to the store with Sistema containers for an entire school. Cue seven-year-old Liam Robinson volunteering his dad Grant to help find a solution.

Grant used his role as General Manager of Ecoware to source bamboo trays, then he and the school's Sustainability Committee trialled them to ensure they would work, ticking off fit, hygiene, freshness, and whether it would last the trip to school. Last week on November 13th, Meadowbank Primary kids received their first traditional plastic-free sushi order, enjoying their lunch packed in compostable bamboo packaging and PLA bioplastic lid instead.
Once they'd finished, the bamboo containers and plant-based PLA lids, along with all food scraps from lunch and morning tea, were collected by the Ecoware team who were on hand with compostable bags to collect the waste and help with the end-of-life solution. Long-term, the school hopes the waste will be added to their on-site compost to eventually break down and create nutrient-rich compost for their vegetable garden. But for the first trial, Ecoware took the waste back to the office, to be picked up on the next organic waste run.
Final result: delicious sushi lunch with no traditional plastic waste and less waste to landfill - mission accomplished! This is a great example of the power we have to change the world by questioning the status quo and coming up with simple solutions to plastic waste. Great work, Meadowbank Primary!