Ecoware innovation – our new straw-free clear cup lid!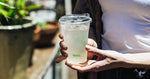 Too little is being done about plastic and the harm it has on our planet. We are fed up with the status quo, and as pioneers of the compostable packaging industry, we see it as our responsibility to continue innovating single-use packaging for the better good. 
Straws are a BIG topic right now and the poster child for the global anti-plastic movement. We have already made positive steps to improve the environmental impact of straws. Ecoware's paper straws are made from Forest Stewardship Council® certified paper and our plant-based IngeoTM bioplastic straws are commercially compostable, which have certainly helped ease our customer's frustration with traditional plastic ones. People are happy with our plant-based alternatives, but we wanted to do even more to make a difference.
So from this week, we give our customers the opportunity to ditch the straw altogether! We're pleased to introduce our new straw-free clear cup lid! A lid designed with a special sip mould to allow you to take a beverage on-the-go and sip comfortably without spillage.
This is an Ecoware innovation, so just like our existing range of cold clear cups and lids, they're certified for commercial composting and made from the revolutionary IngeoTM bioplastic: a resin made from plant starch. 
Innovation continues to sit with the most simple of concepts.