Ecoware Award Winners! Why this coffee roaster refused to accept "no" for an answer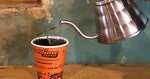 Popular Nelson coffee roasters, Sublime Coffee, have long been fans of using Ecoware certified commercially compostable takeaway coffee cups when reusable cups aren't an option for their customers. But they had a slight problem…
"It's great to have compostable packaging made from plants, but it was frustrating that we couldn't dispose of them properly because there was no commercial compost facility in Nelson," says Emma Hennah, co-owner of Sublime Coffee.
There was no commercial facility in the area that processed food and associated packaging, and there didn't appear to be any movement from the Council to address this issue, so Sublime Coffee owners Dan and Emma decided to take matters into their own hands!
Undeterred by the time and work involved, they set about developing their own way to compost the coffee cups they served. 
First, they found a local business who was keen to help; a green waste composter. They started a nine-month trial, looking at different methods to maintain heat and speed up the breakdown process of their coffee cups. Eventually, they found a system that worked, but they were unable to scale their trials with that green waste composter.
Determined to close the loop, Dan and Emma found another green waste composter, Greenwaste To Zero, and began trialling the system at their facility – to great success. Eighteen months later, Sublime Coffee cups are successfully composted among green waste, including grass clippings, tree branches and other debris from landscaping.
Now, Sublime Coffee Roasters are diverting about 3,200 coffee cups and lids from landfill every month at their Haven Road espresso bar, and nearly 2,000 at their Palmerston North cafe. 
Sublime coffee drinkers return their used cups and dispose of them in a special organics bin. A local waste collector picks the bins up every week and takes them to Greenwaste To Zero. In July, 42% of cups and lids purchased at their Haven Road espresso bar were returned back for composting.
"It's been easy because our amazing customers were instantly on board and keen to do the right thing. We didn't need to do much educating at all – people in Nelson want to compost." 
Not only has Sublime's work helped close the loop on their own waste, it's had major positive repercussions for the entire Nelson region. After the success of composting coffee cups in among the green waste, Greenwaste To Zero achieved Council consent to accept and process food waste, allowing them to help other local businesses, schools and organisations divert waste from landfill and turn it into valuable compost instead. This is a massive win for Nelson that will significantly reduce the city's environmental impact.
Ecoware is proud to have been able to work alongside long-time friend and customer Sublime Coffee on this journey and watch them achieve success and a win for the entire Nelson region. The resulting system is working seamlessly now, but it wasn't an easy journey. Their perseverance and determination to do the right thing is why we have awarded them the Ecoware Award – Champion of Change 2019.
We hope their story will inspire others and encourage action. Dan and Emma never gave up and say finding the right people who believed in their mission to connect the dots was their key to success. Ecoware assisted Sublime as much as we could along the way, and are ready and waiting to help more customers keen to close the loop.