Ecoware Award Winners! The Fijian cafe literally taking their waste home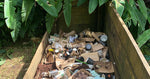 When you think of Fiji you think of warm tropical waters, coral reefs and long stretches of white sand beaches – sounds idyllic, right? However, with approximately 900k residents, over 800k visitors each year, a total of 332 islands, and a distance of 1100 nautical miles from New Zealand, there is a less pretty side to the country as it struggles with waste management.
Fiji lacks in waste processing infrastructure. Collection services operate mostly in the urban areas, leaving rural parts of the island with few waste solutions. The island is yet to establish commercial composting infrastructure.
But in the capital city of Suva, the owners of a new café are out to change the meaning of waste, and how it is dealt with. Mue and Darran Bentley-Fisher opened Weta Coffee Fiji in March this year, driven by the goal of introducing Kiwi coffee-roasting excellence to the island. But they also vowed to do things differently. There's no doubt they live in an island of paradise, and that's precisely how they want to keep it.
Mue and Darran took the bull by the horns and implemented a "no plastics" policy within their business.
"We felt this was an important step in our business journey since no other cafe or restaurant in Fiji has a strict "no plastics" frontline policy," the couple explain. 
Instead, they chose to use Ecoware packaging for serving food and drink to their customers. They use paper EcoBowls, wooden cutlery, kraft paper food trays, bin liners and more, all plant-based alternatives designed for composting. Even their takeaway 'Weta Coffee' cups are a more sustainable alternative, made from responsibly sourced paper and lined with IngeoTM bioplastic – a fantastic innovation that is 100% plant-based and sourced from field corn. A traditional coffee cup is lined with LDPE plastic, a non-renewable resource (oil). 
TAKING THE PROBLEM HOME WITH THEM
Ecoware packaging eliminated a lot of plastic in their business, but there is still the problem of waste-processing on the island. Limited by the frontiers of commercial composting in Fiji, they took matters into their own hands and agreed that if you create the waste, you should be able to live with it – literally!
Mue and Darran implemented a dedicated organics waste bin at the café to collect the compostable packaging customers return. They take the bin home with them each night and compost the contents – along with the café's food scraps – right in their very own backyard!
"We don't have any commercial composting in Fiji, so this is how we can do our part."
Most Ecoware products are certified for commercial composting (at a heat of 65°C), but given the year-round balmy temperatures on the island, Weta Coffee Fiji is successfully composting all their packaging in a domestic setting. In other words, their tropical climate enables them to maintain a high temperature at home so even certified commercially compostable products (like coffee cups) break down well in their domestic setting.
Mue and Darran are an example of a micro circular system: serving their products in packaging made from plants, turning it into compost locally, losing nothing to landfill. But the circular system requires a collective effort from everyone, as customers need to return their compostable packaging so it can be composted, so Weta Coffee Fiji is on a mission to educate their customers about waste, composting and litter. Their efforts extend to ensuring people understand that compostable packaging doesn't mean it can be littered.
We want to share Mue and Darran's story with our customers as an example of two people leading the change and to make a difference. We applaud their actions – they are single-handedly changing the perception of how to deal with waste in their home, Fiji. Their positive initiatives are inspiring and will hopefully create a ripple effect of change throughout the island. There's a long way to go, not just in Fiji, but we need to start somewhere to get anywhere.