How to elevate your food business with takeaways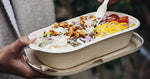 We've collated our top packaging tips to consider in your transition to takeaways, and list of epic Kiwi companies that can help.
Top technical packaging tips to consider:
Versatility -

 choose versatile packaging to suit a variety of meals, that way you don't need to deal with multiple different products. For example, bamboo food boxes are great for hot and cold food as they are freezer-friendly and microwave oven-proof.

Purpose -

 Know how your food will be consumed. For example, if your servings are generally larger than most and likely to be stored in the fridge for later, opt for packaging solutions to suit. Talk to us anytime for expert advice!

Sustainability -

 Avoid traditional plastic takeaway packaging and opt for plant-based packaging. In today's world, you can operate a food business cost-effectively and limit your environmental impact too. We offer certified home and commercially compostable products. Let's keep traditional polystyrene out of the picture!

 

Presentation 

- We know that presentation is important in foodservice. Flat bamboo boxes or wide kraft food boxes could allow for a better presentation of your food. You might also like to consider partitioned food boxes as compartments might allow for better presentation.

 

Storage 

- A handy tip for store your containers upside down to limit contact of the inside of the container.
Kiwi companies to help you operate a successful takeaway business: 
CLICK AND COLLECT APPS:
Depending on your site, click and collect models might work for you. 
Regulr
allows you to list yourself and your menu on the Regulr app where customers can place orders for your takeaways and come pick them up. So far, the app has had thousands of downloads over the past week in anticipation of level 3 deliveries. Regulr will help you increase sales without increasing staff costs, attract new customers to your location, and make ordering takeaways easy for your customers.
ONLINE POS SYSTEMS:
Do you need new online payment systems? 
PosBoss
 is an awesome business making tills and bills easy with iPad till software for bars, cafes, and restaurants. With PosBoss, you can operate a POS system offline on the cloud without issues. Cost-wise there are 3x base packages.
Small
 @ $29 pm – For a small menu of 50 items with a single till
Medium
 @ $65 pm - Up to 5 tills and unlimited menu items 
Large
 @ $155 pm - When you need anywhere between 6 - 35 tills
DELIVERY APPS:
If you prefer to operate delivery models as opposed to click and collect, here is a kiwi company that can sort the delivery side of the business for you.
DeliverEasy allows customers to view your menu online, purchase the takeaways that they want, the order is sent to you, and Deliver Easy will deliver it to your customer.  
INDUSTRY EXPERT ADVICE: 
The Restaurant Association of New Zealand is an industry body demonstrating excellent leadership during this time. If you are a member, they are a great source of guidance on all matters to do with hospitality including visas, payroll, specific COVID-19 advice, and resources for your business. 

Manaaki is an emergency business advisory forum. It is an incredible support network of various business experts. All Kiwi small business owners can ask questions about running their business and an expert will help with solutions. We love seeing Kiwis help Kiwis.
MARKETING:
It's equally as important to let customers know that you're online and operating takeaways! Use 
Ecoware's online marketing portal
 to download social media tiles to help you advertise.