Farro Fresh Food – making a positive difference every day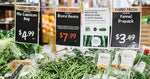 Amidst the rising media attention around plastic waste, there are significant opportunities for people, businesses and communities to be more sustainable in the way they operate. Supermarkets have been in the hot seat, but there is one supermarket that is well ahead of the game. Grab a trolley or a shopping basket, and we'll walk you through the departments to tell you about Farro Fresh Food, the Auckland-based supermarket making a positive impact within their food community.
Removing plastic from produce
Walk through the automatic doors straight into the fresh produce section. In a typical supermarket, you would see much plastic-wrapped fruit and veg; mandarins in netting, Roma tomatoes on polystyrene trays hugged in glad wrap. Farro is currently trialling "free flow" produce. As an example, consumers are given the option to buy green beans in plastic bags vs loose green beans. You won't find any plastic bags to put your produce in either, just good old-fashioned brown paper bags are available to use. Throw those loose green beans in your paper bag and follow us to the next department. 
Compostable cups for your coffee
Not all supermarkets offer in-store coffee. Farro uses a variety of New Zealand coffee brands served in Ecoware certified compostable cups and lids – plant-based packaging to be composted after use. Drop the cup and lid in the organic waste bin when you're done, and off it goes to a commercial compost facility – no waste to landfill. 
Removing plastic containers from the deli
Spin your trolley to the Deli section. They have an impressive spread of premium deli foods; colourful superfood salads, cold meats, NZ olives and more. The majority of Farro's waste comes from the Deli section. Like in any kitchen, prepping and storing food often comes with food waste. Kiwi's throw out $872 million worth a year, 213 jumbo jets according to Love Food Hate Waste. Farro curbs this problem by using waste collection company WeCompost, to ensure their organic waste is collected and composted.
Deli sections are known to require a lot of plastic. First of all, the staff must wear plastic gloves to serve food, so we're currently on the hunt to find compostable disposable gloves for them. Plastic packaging is needed to store food and provide a safe, hygienic way of getting food from their store to the customers' home. But in a Farro Fresh Food store, customers are served Ecoware certified compostable packaging. The stack of clear containers and lids you see on the counter – they're EcoDeli bowls and lids – 100% plant-based IngeoTM bioplastic and printed with non-toxic water/soy-based inks. It's been 4 years since our partnership began. Transitioning away from polypropylene to our EcoDeli containers means Farro has achieved the following environmental savings:
GREENHOUSE GAS SAVINGS EQUIVALENT TO APPROXIMATELY:
Driving a new vehicle in New Zealand 19,800km
80 tree seedlings growing for 10 years.
FOSSIL FUEL SAVINGS EQUIVALENT TO APPROXIMATELY:
2,930 litres of gas burned.
The electricity consumed per month by 40 New Zealand residents.
3 years powering a single 100watt light bulb. 
Furthermore, they'll let you bring your own container into the deli! You'll also find Ecoware wooden cutlery, bioplastic clear cups, paper straws and more. This is not just a supermarket, but a popular lunchtime destination. Grab your lunch from the Deli and eat in their dedicated seating area. You can put your compostable packaging and food scraps in the organics bins when you're done. Waste management is essential to them, and they do a good job of controlling different waste streams to maximise recycling, composting and diversion from landfill. 500,000kgs of their waste is recycled every year (this includes the recycling of food waste as composting). That's 500,000kgs diverted from landfill.
Promoting packaging stewardship
Wheel yourself down the dry food isles, and you'll find an extensive range of carefully selected New Zealand suppliers showcasing the best of fine food. The owners' passion for quality New Zealand produced is obvious. Farro actively encourages small Kiwi producers into the market, in fact, they're the cornerstone of what makes Farro Fresh Food the charming place it is. If you are a regular, you'll know every week there are opportunities to meet a new passionate supplier with in-store events and tastings. 
Supporting New Zealand operated suppliers reduces Farro's environmental footprint by cutting international shipping emissions. But more importantly, they believe in sustainability, to the point where it drives their choice of supplier. This encourages Kiwi suppliers to take a look at their own environmental impact and influences positive change. As an example, Farro asked all their produces to swap out any poly-bins used for delivery to their store for more sustainable alternatives. In fact, part of the reason they're trialling "free flow" in their produce section is to influence their suppliers and instil confidence that their product will sell without plastic packaging.
The paper bags make a return
You've ticked everything off your list, so you head to the checkout. Every time you remember to bring your own reusable bag, you will receive a 5c credit. If not, don't worry, you can purchase a Farro Fresh Food reusable jute bag, or you can opt for their paper bags free of charge. Throw it in your home compost bin later. You won't find any traditional plastic bags here. Many are over the moon with the Government's decision to phase-out plastic retail bags of a certain size and thickness next year, Farro is particularly happy. In fact, eliminating plastic bags has been on its agenda for years, and once lobbied to implement a tax on checkout bags as a means of reducing consumption during a National Government.
If you haven't already worked it out, Farro is aiming for zero waste to landfill. This is a short-term goal they are working hard at, and have already managed to reduce their landfill waste by 75% since 2015 (that's 475 tonnes less each year). Compostable packaging and organic waste collection is a crucial component to this. Long term, they're continually working to reduce to the amount of plastic waste their customers take home.
Already they have implemented changes to this effect. They believe they have a huge responsibility as a food retailer to do this through process improvements, consumer education and changing suppliers to produce more sustainable products and packaging. Retailers should be continuing to look at ways of reducing waste to landfill throughout their business and supply chain as well as reducing packaging waste. They also work closely with Fair Food to redistribute the leftover food waste and are looking for more organisations to do this with across the Auckland region.
Supermarkets and responsibility 
Supermarkets have the opportunity to significantly improve their environmental sustainability and are often subject to consumer pressure. Farro knows that sustainability is an on-going journey and they're making the effort to improve not only their own impact but everyone within their food community – producers, customers and suppliers. Farro's ethos? It doesn't matter how small you are; you can make a difference. Collectively, we make a bigger impact. Thank you, Farro Fresh Food for your everyday positive influence and your efforts to constantly improve.