Ecoware become the first Climate Positive business in New Zealand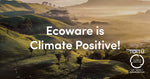 We are thrilled to become the first-ever Toitū Climate Positive certified organisation. This means we no longer just measure and offset our emissions. We are also aligning with science-based targets, influencing supply chain networks and educating stakeholders about emissions reductions. 
And this year we also celebrate eight years as a Toitū carbonzero certified business, another first for Ecoware in the packaging industry. 
"We have been working towards being a climate-positive company since our inception 10 years ago. We've achieved this by looking at every element of the supply chain critically and striving to make business decisions which best align with this long-term goal – this includes being zero waste, not just carbonzero." - James Calver, co-founder of Ecoware. 
What is Toitū climate-positive certification?
The Toitū climate-positive certification is one of the most robust of its kind. It's much more holistic than other standards because it requires organisations to take true responsibility. The Toitū certification programme requirements meet and exceed international standards and best practices. 
Toitū Envirocare are recognised in more than 60 countries and are involved in developing leading international standards to measure and reduce greenhouse gas emissions. The programme provides a framework for action, engaging with the value chain to accelerate decarbonisation, compensating above neutrality and is named aptly because the programme aims to positively impact the climate.
The Government has passed legislation making climate-related disclosures mandatory for some organisations—those within the financial sector. We think that if we are to meet our emission reduction targets, all companies should be required to disclose their carbon emissions. It is essential to accelerate progress towards a net-zero economy. Without consistent, reliable, and comparable disclosures from companies, we, customers, cannot determine if companies are doing anything to reduce emissions which has broader implications for the nation in achieving meaningful reductions.

The future of takeaway packaging
Ecoware has achieved Toitū climate-positive certification by employing a number of initiatives. Here are a few recent activities we're proud of: 
— Constantly innovating and adding new products to our extensive range of plant-based compostable packaging alternatives.
— We have supplied compost bins to 73+ customer venues and connected our customers with local organic waste collectors and compost facilities via our Compost Collect programme. 
— We are an essential part of the supply chain for the Government-led healthy school lunch programme, Ka Ora, Ka Ako. As of March 2021, more than eight million lunches were served in 542 schools to over 132,600 kids — Ecoware plays a vital role in supporting the schools and food distribution companies involved with certified compostable packaging — a safe, hygienic and environmentally friendly solution. 
People typically understand the green star ratings on appliances or the health star ratings on food packets. Certifications and ratings help people make more informed decisions about where they spend their money. We hope to set a benchmark for other local businesses by providing a blueprint of how to tread more lightly on our planet.

Compostable packaging standards
There is no agreed New Zealand standard for compostable packaging and food service ware. Composting facilities that accept compostable packaging are listed on the WasteMINZ website including which international certifications and standards they recognise. There are 12. Ministry for Environment is currently working on a compostable packaging position statement to be finalised in late 2021/early 2022. 
With the hard-to-recycle plastic phase-out set in motion as of October 2022, city composting infrastructure will have to expand for compostable packaging. And until it does, pass bills that require phasing out single-use plastic—and allow for exceptions if the packaging is certified compostable. 
When establishing new waste management systems (e.g. food waste collection) lessons should be learned from the current recycling fragmentation, and a nationally consistent and coordinated approach should be taken if we are to achieve our emission reduction targets - including a 10 per cent reduction below 2017 biogenic methane emissions by 2030.
Suppliers of certified compostable food and beverage packaging
Did you know that alongside our partners, we've swapped almost 1.4 billion pieces of packaging with plant-based compostable alternatives over the past 10 years? At this very moment, the government is not banning single-use plastic cups, not this year, not in 2023 or the 2025 bans. There are, however, suitable sustainable plastic coffee cups. So while the government might not be phasing out plastic cups and many other single-use plastics, we can choose to remove plastics from our businesses and the wider environment.
Our compostable packaging can last as long as needed for the typical consumer product. At the end of the product life cycle, our packaging can be easily disposed of into industrial compost. Some products are also certified for home compost environments. This way we can effectively fight the single-use culture and lower the waste created, decreasing the waste of our takeaways.
Our material innovations provide a solution in day-to-day life aligned with government regulations, providing the benefit of diverting biodegradable waste from landfill or incineration to 'greener' streams such as anaerobic digestion and composting, contributing to a circular economy. If you want to remove petroleum products from your food business, get in touch. Send us an email at hello@ecoware.co.nz.