Kiwi festivals won't let Covid stand in the way of sustainability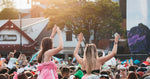 During Covid lockdowns, rubbish and waste management dropped on the priority list. Many of New Zealand's recycling facilities had to pause operations, and recyclable waste was cast into landfills. Some rural communities were forced to close their refuse station and people were asked to stockpile their waste at home until it reopened. Since Auckland came out of lockdown, there has been an increase in landfilled waste – a whopping 5500 tonnes of extra over three months. Unfortunately, when health is at stake, environmental efforts can take a back seat.
But although Aotearoa has a sense of normality and we are free to attend concerts and events, we are not completely out of the woods with Covid. We're still expected to remain diligent. In an event situation, you might expect organisers to scrap all efforts with waste management - tossing away the hand sorting of the waste to protect their staff and reduce the spread of germs. In the current world, it would be much easier to toss all the event waste into a giant skip bin for landfill. But this is not the mindset of the event organisers at 116 Ltd - the masterminds behind a series of popular festivals like Bay Dreams, One Love, and Mardi Gras.
The Covid god's allowed 116 Ltd to host Ohakune's Mardi Gras early in November. Auckland was teetering on the edge of another lock down, but it was a sold-out event. Despite the extra health and safety precautions required, the team was determined to forge on with their sustainability efforts, particularly with waste management. Not only that, they aimed to do better than their efforts at last year's event!
The goal was to divert over 70% of event waste from landfills – no small feat, as it requires extensive coordination and communication with suppliers, 5,000 event-goers, waste management teams, volunteers, and more! But with careful planning and the right partnerships, they could control what products came into the event, how they were used, and how they were disposed of.
Despite the heightened challenges with Covid, they achieved an incredible diversion rate of 83.1%! 
One of their biggest waste streams was food and its packaging, so 116 Ltd decided that all food vendors at the event had to use certified compostable packaging. Ecoware came to the party and supplied plant-based, certified commercially compostable clear cups for beverages served.
They hired Closed Loop Services, a cleaning and waste management company who implemented effective bin systems throughout the event (separate organics, recycling and landfill bins), along with clear signage guiding people to dispose of their waste in the correct bins. All food waste and Ecoware compostable packaging went into the organics bin. At the end of the event, Closed Loop hand-sorted 35.5m3 of waste into 8 different waste streams, allowing for the event's impressive diversion rate. 
These efforts are not a one-off. Last summer, Closed Loop recorded an average of 76.2% of waste diverted from landfill across 116 festivals and events including Bay Dreams, One Love and the Ben Harper concerts. An impressive 962m3 of waste was diverted from landfill.
Festivals have an important role to play in the shift to a circular future. As closed environments where waste is created and disposed of in the same place. 116 Ltd recognised the opportunity to demonstrate a circular economy and influence waste disposal behaviours, which is why we were proud to award them the 2020 Waste Warrior Award! Given the challenges with Covid and the added expectations with health and safety, they still went above and beyond with waste management and smashed their targets. For this, we are proud to partner with them. Well done to the 116 Ltd team!