Celebrating 5 years of being carboNZero!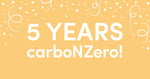 This month we're celebrating our 5th consecutive year of being a CARBON ZERO business at Ecoware. This means that for the last 5 years we have measured our company's carbon emissions via independent auditing, and subsequently offset those emissions by investing in New Zealand native forest restoration projects and more.
We're proud to say that last week we offset 136.34 tonnes of CO2e (carbon dioxide equivalent). This is the equivalent to:
These emissions are high, but we're incredibly proud to tell you that we, in fact, reduced our emissions intensity by 45% since our last reporting period. How is this so? Based on the growth we're experiencing; our emissions were forecasted to be 422.22 tonnes of CO2e based on a recorded base year 5 years ago. The graph below demonstrates the emissions reduction we have achieved over the last 5 years:
So how do we reduce our emissions despite growth? We partner with Enviro-Mark Solutions to independently audit, report and offset our footprint. After our emissions are measured, a plan is made to reduce Ecoware's emissions, and Enviro-Mark Solutions suggest improvements. The guidance Enviro-Mark Solutions provides has enabled us to set the right policies internally to allow our business to grow, but not so much our emissions.
Our most effective improvements have been concerned with freight/shipping, whereby both international and national freight has become highly strategic in ensuring full consignments. Our thoughts are that when a truck moves from A to B, the best thing we can do is ensure the truck is full. An emissions reduction strategy has helped us to plan our logistics with greater care to minimise emissions during shipping. We also try our best to reduce kilometres and overall deliveries by having the required conversations with our customers first. In essence, we've made our supply chain more efficient.
We started out as just a packaging company selling plant-based alternatives. But as our brand grew, our conscience grew with it. We believe in going the extra mile for sustainability and see carboNZero certification as one effective way to reduce our environmental impact. Because of it, we're also proud to say we invest in New Zealand native forest restoration projects via carbon credit schemes. The projects include the Hinewai Reserve in the Banks Peninsula, Rangitoto Station in King Country, and more recently Pigeon Bush in the Wairarapa.
The benefits of investing in restoration projects are reflected in the success of the Hinewai Reserve. 30 years ago the area was a gorse bush. With the help of the carbon credit scheme we participated in, the Hinewai Reserve is now 1,200 hectares of mature and regenerating native bush with abundant wildlife and 18km of walking tracks for the public. See the incredible transformation for yourself – https://www.youtube.com/watch?v=u1FtUmfxT8c
Some other fellow carboNZero certified New Zealand companies include:
– Yealands Wine
– Antipodes Water
– Trilogy Natural Skincare
– Auckland Zoo
– Wellington Zoo
Five years of carboNZero certification is something we're pretty chuffed about, and we encourage more businesses to consider reducing their own carbon footprint.