Tips for a waste-less Christmas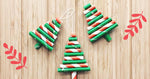 The 'silly season' was coined in the 1800s to reflect the lack of important media/news in the UK during the summer. Newspapers were too busy holidaying to publish anything important, and the news became "silly". But for us in NZ, we use it to describe the Christmas/New Year period where our social calendars heat up, bottles start popping, and we all fret over buying presents and trying to find car parks. One thing is for sure; it certainly is silly all the waste that comes with it.
Zero-waste is hard, so we encourage striving to be better. Here we have a list of tips and tricks to help you reduce your waste this Christmas and New Year's.
Shopping

Don't forget your reusable bags: Leave plenty in your car and even keep a small one in your handbag if possible. The more reusable bags, the better, as this gives you more opportunities to reduce the bags you take home.
Ask for receipts to be emailed: You will save a lot of paper and ink by having your receipts emailed to you where this is possible, plus you won't choke your wallet.
If you're using disposables, go for certified compostable: When Christmas lunch or dinner involves countless cousins and relatives, crockery and glassware can be challenging. If you opt for disposable plates, bowls and cutlery, choose certified compostable. Options can include bamboo, wood and paper. When the festivities are over, you might be able to shred the packaging and dispose of it along with the food waste in your compost bin. Check the packaging for disposal options, and for more information on composting, read our blog.
Decorations: Avoid the plastic – go for glass, paper or wood products that are natural and ideally organic. Below is us getting creative with some paper straws. Paper straw stars can go at the top of the tree, on the wall or turn them into tree decorations. Use greenery instead of tinsel. We suggest taking a walk around the block or through your garden with some scissors to see what you can pick to make your tinsel or wreath.
Gift ideas
Gift experiences over products: This way you can avoid giving something that will most likely become waste/clutter. Tickets to concerts, gigs or unique activities go down a treat. Some other examples include yoga/gym memberships, facials/massages or a day at the spa. Dinner dates to a nice restaurant or wine and brewery tours are easy and always enjoyable. With experiences, you often gift someone quality time with others, which is invaluable.
Make a gift: A few of our favourites include making soy candles and natural soaps – one for the ladies. A popular "make-your-own-gift" is soy candles, chocolate Xmas bark, and vanilla incense. Homes To Love  have a few ideas worth reading too!
Herb gardens: Give a gift that grows. If you're into a bit of DIY, it's easy to source old wooden pallets or apple crates to build a planter box to grow herbs. You will be surprised how much joy people get from growing their own food.
Antique stores: Try the op shops and antique stores for second hand or vintage goods. If you know the person well and are in the right mood to spend some time hunting through the stores, you could come across some great gift ideas. One man's trash is another man's treasure after all.
Food tips
Get composting: If we were to leave you one tip, it would be to set up a home compost bin for organic waste. Kiwi's toss out a lot of food waste – a whopping 157,398 tonnes of food, each year according to Love Food Hate Waste: fruit that started to rot in the fruit bowl, carrot peel, apple skins, that broccoli you didn't eat in time. After your Christmas lunch, one of the best things you can do for the planet is composting your food scraps and left-overs. That way nutrients can be recycled, and the result is a valuable resource that powers the growth of next-generation plants. Learn more about why composting is so good for the planet on our blog.
Stock up on beeswax wrap and reusable containers: Beeswax wraps are excellent plastic glad wrap replacements. They're also able to be composted once they've seen their days. Stocking up on reusable containers will also mean you can store more leftover food and have it last longer – less waste all-round.
LoveFoodHateWaste has excellent tips for Xmas leftovers: We highly recommend checking out their suggestions for sparing food waste here.
We've said from the beginning that nothing will ever be perfect, but you can certainly try to be better and make small steps to improve. Merry Christmas, and happy composting.